The collection of Claudette and Michel Bouvot
We leave " the Black " to finally be able at the color, always out of silk since you go, now, to discover polychrome lace. Three laces below are contemporary achievements.
The patent deposited in 1897 by the Robert house gives to laces polychrome silk name chantilly the lace. However, the examination of the samples shows that the technique used is that of the blonde.
The fashion is, since avénement of Napoleon III, with silk laces black, known as chantilly, which will make the glory of Bayeux thanks to the Lefébure family. Polychrome Chantilly name, given by the Workshop of Courseulles to its creation, probably comes from the mode of the time. The techniques of the Blonde and Chantilly are very close. The difference comes from employment, in the Blonde as in the Polychrome one, of a larger wire for the leaders. One finds this process in the technique of Chantilly for ombrer or to create a decorative effect. Best name would have been: Polychrome lace of Courseulles.
Extracted the book: Laces Normans Polychrome of Courseulles by Claudette and Michel Bouvot.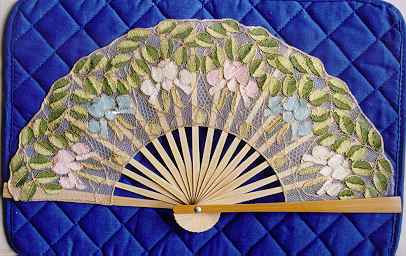 Range carried out by Chantal Hervieux: Click on Détail
You wish to know some much more? You can get the book quoted above at Michel Bouvot . If you wish to learn this technique, of the training courses are exempted in September (see Formation/Stages heading).