The collection of Mr. Délézir
You will be able to also admire the many ones " mêle " to connect. " mêle " are lace bands.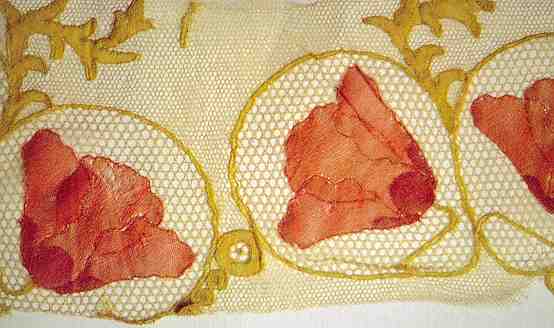 Mix out of Lace Chantilly Polychrome out of silk.
But, I did not speak to you about the staircase which leads to the first stage: you will discover the blue ones " there ", prickings and drawings of reasons for châle.
The blue ones are samples of lace carried out then photocopied, referred and preserved in files. They were used as catalogues to choose laces.
If you wish to have much more information and photographs, you have the possibility of getting to you the book of Claudette and Michel Bouvot: Laces Normans, Polychrome of Courseulles (do not dispatch, it did not remain any more but 200 about it at the beginning of May).
You wish to visit this superb collection:
M Délézir
8 rue de la Cohorte
14470 Courseulles sur mer
Phone: 00 33(0)2 31 37 52 16