The Museum of the lace net of Perrière
The net is son's weft consisted of simple and square stitches every angle of which is stopped by a knot. From the very beginning, it was executed manually in the bun. It is only at the beginning of the XIXE Century when it was him mechanically.
The embroidered net, called also " net of art " or " artistic net ", is characterized by a preliminary support, a bare net or " bottom of net ", and by a work of embroidery in the needle on the network.
In the antiquity, the net was already used as machine of fishing and hunting, but also as clothing finery. Embroidered from the Renaissance, it became an art of enjoyment, precursor of the lace, with the maze and the cut point.....
Extracted from the book " The Net in Perches " - History of a History at home - Françoise, Christian Pytel and Claude Cailly.

"Tools" necessary for a filetière: the pedestal table and its material: bun, needle, frame, thread....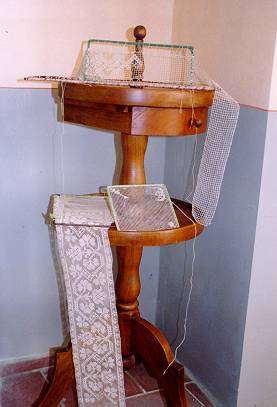 | | |
| --- | --- |
| | |
| Mrs Catherine Drouin does us a demonstration to the Workshops of the Net. | It is at first necessary to create the bottom of net with the bun. |